Homemade keto toffee is so easy but so satisfying. It looks and tastes like the expensive toffee bark in fancy chocolate shops. My buttery walnut sugar free toffee candy has only 5 ingredients plus salt and takes minutes. Even if you've never made candy before you can make this.
Tips for Making Sugar Free Toffee
I have had readers simplify this by putting the melted sugar free chocolate in a muffin tin with aluminum liners. Chill the chocolate, put the warm toffee on top, chill again, and then top with more chocolate. You get cute little circles that way and don't need to flip the toffee over or cut it. That method can also help with portion control.
Substitutions & Tweaks for Sugar Free Toffee
This basic combination of cream, butter, and sweetener can be used to make all varieties of keto toffee.
Nuts: Any type of nuts work! We love this with pecans. With pecans, it tastes like cracker toffee aka Christmas crack. Almonds, macadamia nuts, and cashews are all great choices. Make it with peanuts and it tastes like snickers!
Coffee: Mix in a teaspoon of instant coffee when you add the final tablespoon of cream for a mocha flavor.
Seeds: If you can't have nuts pepitas (pumpkin seeds) give a nice crunch in place of the walnuts.
White Chocolate: Now that sugar-free white chocolate chips are more readily available go ahead and try some in place of the dark chocolate!
Cranberries: Add in some sugar-free dried cranberries with the last tablespoon of the heavy cream. They give a nice, tart contrast to the sweetness of the toffee.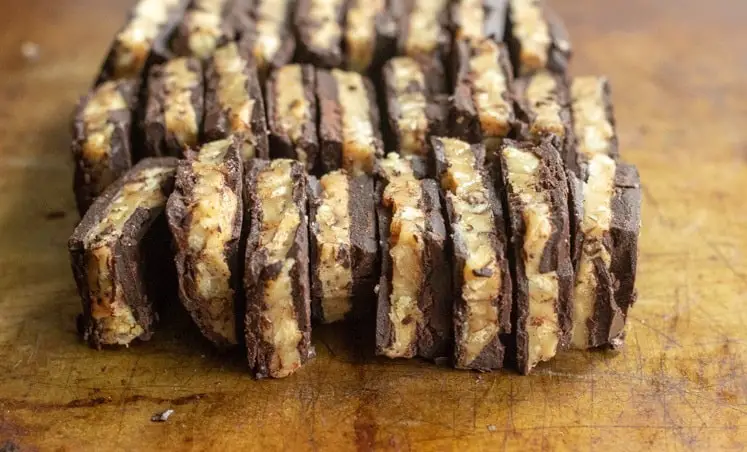 Ingredients
5

 

tablespoon

 

butter

1

 

cup

 

chopped walnuts

 

or nuts of your choice

5

 

tablespoon

 

heavy cream

½

 

cup

 

Joy Filled Eats Sweetener (or see alternatives in recipe notes)

pinch

 

salt

7

 

oz

 

sugar free or very dark chocolate***
Instructions
Line a small baking pan with foil and spray with cooking spray.

Melt butter over low medium until it starts to turn golden. Add nuts and cook for about five minutes until they are slightly toasted. Add 4 tablespoon of the cream and the sweetener. Cook until thickened and golden. This takes about 10 minutes. If it doesn't seem to be thickening you can turn up the heat to medium or medium high but stir constantly. It can burn quickly. Remove immediately from the heat and add the salt and reserved cream. Stir until smooth. Pour onto the foil lined tray and refrigerate until firm to the touch (about half an hour).
Melt the chocolate. I do this in a glass bowl in the microwave stirring every thirty seconds. Add sweetener if needed. Pour half of the chocolate on top of the toffee. Put in the freezer for a few minutes until the chocolate is solid. Flip over the toffee bark and peel off the foil. Put the foil back on the tray and put the toffee on the chocolate side down. Pour the rest of the chocolate on top. Refrigerate or freeze until firm.

The filling stays soft like caramel at room temperature but hardens like a toffee overnight or after refrigerating.