An easy 2-ingredient recipe for low carb keto chocolate coconut fat bombs! A thick layer of sugar-free chocolate topped with melted homemade coconut butter- The perfect keto snack or dessert to satisfy the sweet tooth! Paleo, Vegan.
DURATION:
Prep Time: 2 minutes| Cook Time: 2 Minutes | Total Time: 2 Minutes | Servings: 20 Pieces | Calories: 80kcal
INGREDIENTS:
2 cups chocolate of choice * See notes
1-2 cups coconut butter I used homemade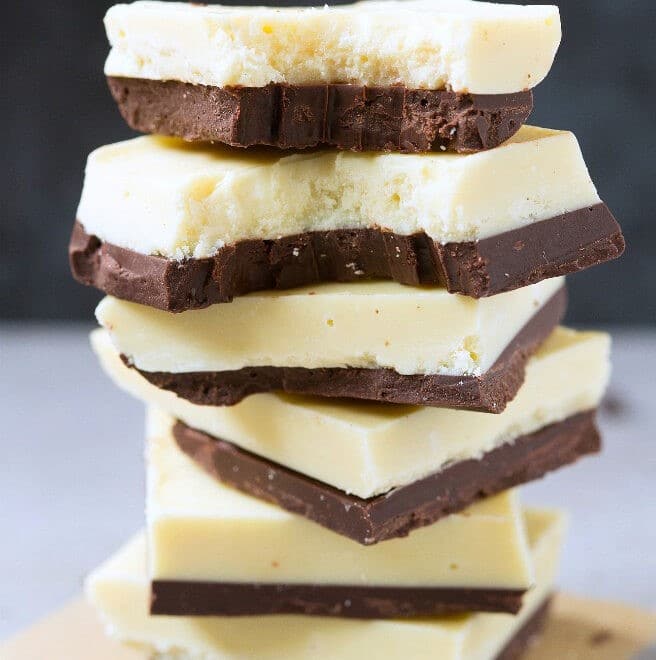 INSTRUCTIONS:
Line an 8 x 8-inch loaf pan or bigger (don't go more than 12 x 12) with parchment paper and set aside.
Melt your chocolate of choice. Pour into the lined loaf pan and refrigerate until firm.
Ensure your coconut butter is smooth, creamy and spreadable. Pour the coconut butter over the cooled chocolate and spread evenly to ensure the entire loaf pan is covered.
Refrigerate until firm. Once firm, lightly wet a very sharp knife and cut into 20 pieces. Be sure to cut in a swift motion, otherwise, the chocolate and coconut butter will separate.
NOTES
I used homemade keto chocolate as recommended within the post. You can use any chocolate of choice if you do not follow a ketogenic diet.
Low Carb Keto Chocolate Coconut Fat Bombs (Paleo, Vegan) should be kept refrigerated, to ensure the coconut butter layer doesn't become gritty and or melt. It is also freezer friendly.
NUTRITION:
Serving: 1 Piece | Calories: 80 kcal | Carbohydrates: 6g | Protein: 2g | Fat: 8g | Potassium: 4mg | Fiber: 4g | Vitamin A: 50IU | Vitamin C: 1.7mg | Calcium: 20mg | Iron: 0.4mg | NET CARBS: 2g